1/ Il Papa agli ebrei: la sofferenza toccata prima a voi, ora riguarda noi, da Vatican Insider 2/ Who Will Stand Up for the Christians?, di Ronald S. Lauder, president of the World Jewish Congress
---
1/ Il Papa agli ebrei: la sofferenza toccata prima a voi, ora riguarda noi, da Vatican Insider
Riprendiamo dal sito Vatican Insider un articolo redazionale pubblicato il 18/9/2014. Restiamo a disposizione per l'immediata rimozione se la presenza sul nostro sito non fosse gradita a qualcuno degli aventi diritto. I neretti sono nostri ed hanno l'unico scopo di facilitare la lettura on-line.
Il Centro culturale Gli scritti (21/9/2014)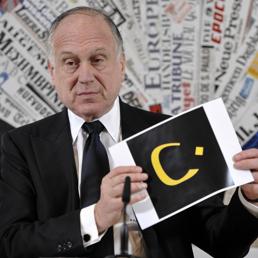 Ronald S. Lauder (Agf)
«Il Papa ha detto che cristiani ed ebrei debbono pregare insieme per il mondo e per la pace nel mondo». Lo ha detto il presidente del Congresso ebraico mondiale, Ronald Lauder, che ha incontrato Bergoglio in Vaticano. Il leader ebraico ha aggiunto di avere il desiderio di visitare le migliaia di profughi, soprattutto cristiani, che da Siria e Iraq si sono spostati in Giordania. Lo ha detto al Papa il quale ha risposto: «Porti a loro le mie preghiere».
Ronald Lauder, nella conferenza stampa a Roma, ha parlato delle persecuzioni contro i cristiani ma anche dell'antisemitismo. «In Europa è cresciuto moltissimo soprattutto dopo la guerra di Gaza. Un piccolo gruppo di agitatori ha sfruttato questi eventi per aumentare l'antisemitismo», ha dichiarato il presidente del World Jewish Congress spiegando che «Israele si è difeso come avrebbe fatto qualunque Paese di fronte alle migliaia di razzi che vengono sparati dai terroristi».
Lauder ha poi riferito quanto gli ha detto Papa Francesco: «Nel mondo ci sono ancora grandi sofferenze, prima è stato il vostro turno, adesso è il nostro turno».
Il presidente del World Jewish Congress ha sottolineato: «Prima gli ebrei hanno sofferto selvaggi attacchi e il mondo è rimasto in silenzio. Ora sono i cristiani che vengono annientati e di nuovo il mondo dice poco. Perché - chiede Lauder - il mondo non reagisce?». Riferendo dell'incontro con Bergoglio il leader del Congresso Ebraico Mondiale ha aggiunto: «Il World Jewish Congress e il Papa sono d'accordo nel condannare i selvaggi attacchi contro i cristiani in Medio Oriente e in altre regioni del mondo».
2/ Who Will Stand Up for the Christians?, di Ronald S. Lauder, president of the World Jewish Congress
Riprendiamo da The New York Times del 19/8/2014 un articolo di Ronald S. Lauder. Restiamo a disposizione per l'immediata rimozione se la presenza sul nostro sito non fosse gradita a qualcuno degli aventi diritto. I neretti sono nostri ed hanno l'unico scopo di facilitare la lettura on-line. Ripubblichiamo questo testo per stimolare la discussione
Il Centro culturale Gli scritti (21/9/2014)
WHY is the world silent while Christians are being slaughtered in the Middle East and Africa? In Europe and in the United States, we have witnessed demonstrations over the tragic deaths of Palestinians who have been used as human shields by Hamas, the terrorist organization that controls Gaza. The United Nations has held inquiries and focuses its anger on Israel for defending itself against that same terrorist organization. But the barbarous slaughter of thousands upon thousands of Christians is met with relative indifference.
The Middle East and parts of central Africa are losing entire Christian communities that have lived in peace for centuries. The terrorist group Boko Haram has kidnapped and killed hundreds of Christians this year — ravaging the predominantly Christian town of Gwoza, in Borno State in northeastern Nigeria, two weeks ago. Half a million Christian Arabs have been driven out of Syria during the three-plus years of civil war there. Christians have been persecuted and killed in countries from Lebanon to Sudan.
Historians may look back at this period and wonder if people had lost their bearings. Few reporters have traveled to Iraq to bear witness to the Nazi-like wave of terror that is rolling across that country. The United Nations has been mostly mum. World leaders seem to be consumed with other matters in this strange summer of 2014. There are no flotillas traveling to Syria or Iraq. And the beautiful celebrities and aging rock stars — why doesn't the slaughter of Christians seem to activate their social antennas?
President Obama should be commended for ordering airstrikes to save tens of thousands of Yazidis, who follow an ancient religion and have been stranded on a mountain in northern Iraq, besieged by Sunni Muslim militants. But sadly, airstrikes alone are not enough to stop this grotesque wave of terrorism.
The Islamic State in Iraq and Syria (ISIS) is not a loose coalition of jihadist groups, but a real military force that has managed to take over much of Iraq with a successful business model that rivals its coldblooded spearhead of death. It uses money from banks and gold shops it has captured, along with control of oil resources and old-fashioned extortion, to finance its killing machine, making it perhaps the wealthiest Islamist terrorist group in the world. But where it truly excels is in its carnage, rivaling the death orgies of the Middle Ages. It has ruthlessly targeted Shiites, Kurds and Christians.
"They actually beheaded children and put their heads on a stick" a Chaldean-American businessman named Mark Arabo told CNN, describing a scene in a Mosul park. "More children are getting beheaded, mothers are getting raped and killed, and fathers are being hung."
This week, 200,000 Aramaeans fled their ancestral homeland around Nineveh, having already escaped Mosul.
The general indifference to ISIS, with its mass executions of Christians and its deadly preoccupation with Israel, isn't just wrong; it's obscene.
In a speech before thousands of Christians in Budapest in June, I made a solemn promise that just as I will not be silent in the face of the growing threat of anti-Semitism in Europe and in the Middle East, I will not be indifferent to Christian suffering. Historically, it has almost always been the other way around: Jews have all too often been the persecuted minority. But Israel has been among the first countries to aid Christians in South Sudan. Christians can openly practice their religion in Israel, unlike in much of the Middle East.
This bond between Jews and Christians makes complete sense. We share much more than most religions. We read the same Bible, and share a moral and ethical core. Now, sadly, we share a kind of suffering: Christians are dying because of their beliefs, because they are defenseless and because the world is indifferent to their suffering.
Good people must join together and stop this revolting wave of violence. It's not as if we are powerless. I write this as a citizen of the strongest military power on earth. I write this as a Jewish leader who cares about my Christian brothers and sisters.
The Jewish people understand all too well what can happen when the world is silent. This campaign of death must be stopped.
---